Ynput Unveils Two Premium Addons and Latest Release for AYON Pipeline Platform
Ynput unveils Node Graph and Web Publisher addons, advanced visualisation and remote publishing for AYON pipeline platform.
Prague, Czechia (19 September, 2023) – Ynput, the leading provider of creative pipeline services for animation and VFX, announces the launch of two premium addons for AYON, its open-source pipeline platform. These paid-for enhancements, Node Graph addon and Web Publisher addon, empower creative teams with advanced visual capabilities and streamlined remote publishing tools. The introduction of these addons represents an expansion of AYON's functionality, demonstrating Ynput's dedication to providing industry-specific tools that cater to the unique needs of the animation and VFX community. Additionally, AYON's latest release is available for direct download, eliminating the need to rely on source code for building the software. This update greatly simplifies the installation and deployment process with an intuitive setup wizard, making it easier than ever before.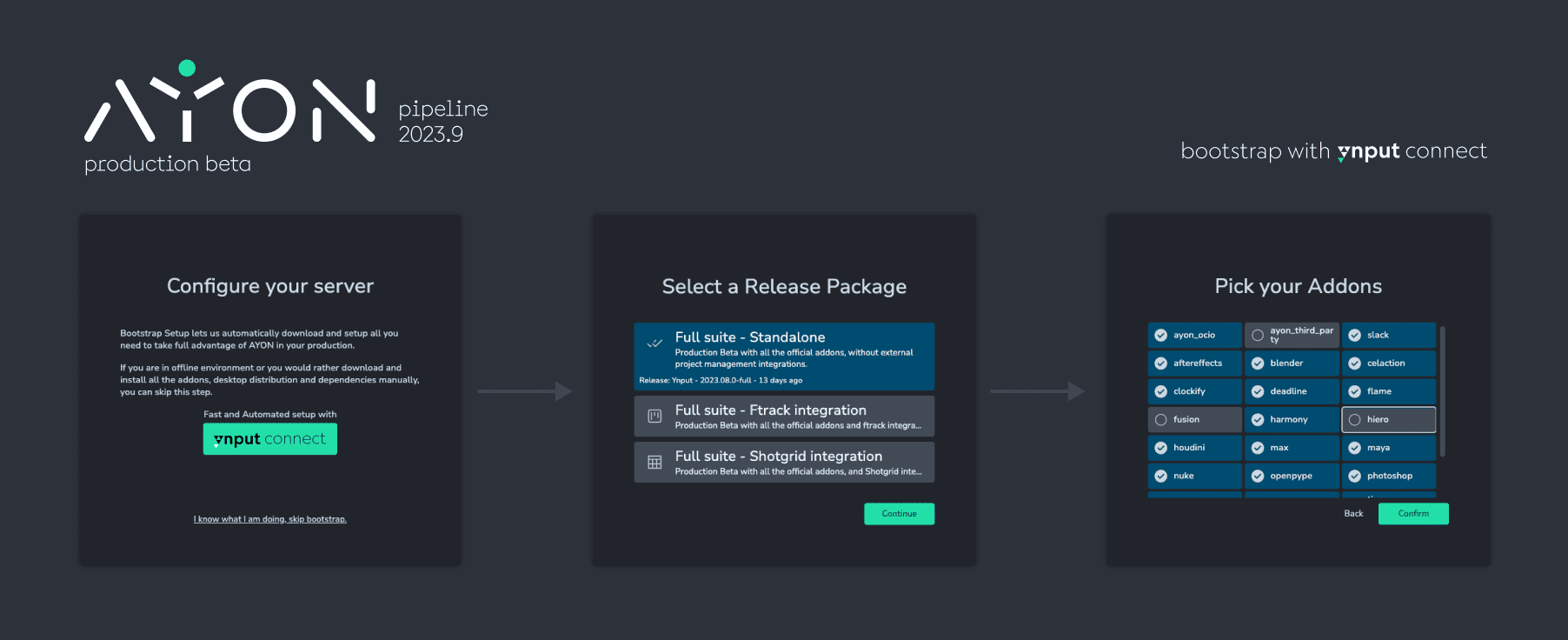 Traditional editing of pipeline workflows in a non-visual manner can often present challenges for creative studios. The visually intuitive interface of the Node Graph editor allows pipeline TDs and supervisors to easily comprehend intricate workflows, making it simpler to navigate and make modifications. Additionally, the Web Publisher addon simplifies the process of publishing assets for remote artists to share their work with supervisors for review. Gone are the days of convoluted procedures of sharing full project files; the Web Publisher enables effortless and efficient collaboration, enhancing the overall creative workflow for artists.
"We are thrilled to introduce the Node Graph and Web Publisher addons to the AYON pipeline platform," said Milan Kolar, CEO and founder of Ynput. "These new features are the result of our close collaboration with various studios and our customer-centric approach to solving real problems faced by the animation and VFX industry. We believe they will greatly enhance the efficiency and effectiveness of creative teams worldwide, and we look forward to seeing the community benefit from these additions."
Web Publisher: Streamlined Remote Publishing
The Web Publisher is a significant addon that simplifies and automates the publishing process for studios. It allows artists to securely upload their files to the cloud, which are then downloaded and rendered within the studio's infrastructure. This eliminates the need for manual intervention and streamlines the publishing workflow. Previously, studios might have relied on bespoke solutions or manual processes, but the Web Publisher offers a comprehensive solution that democratises the proprietary capabilities often seen in major studios. By automating file handling and rendering, it saves studios valuable time and enables efficient collaboration between artists and the studio, ultimately enhancing productivity and workflow efficiency.
"Working closely with Ynput to develop the Web Publisher addon has been a collaborative process," said Pete Addington, CG Supervisor at The Line. "The flexibility to configure it for each task, as well as being able to synchronise non-reviewable media for off-site workers has been a game-changer for us. It has significantly improved our workflow by automating the handling of enormous outputs and ensuring they reach the right hands without manual intervention. The elimination of additional installations or third-party applications makes Web Publisher seamless, enabling us to work more collaboratively and efficiently."
The Web Publisher addon revolutionises remote publishing by enabling users to create new versions from anywhere, using a simple web browser that is pipeline-aware. Designed with freelancers and remote artists in mind, it streamlines workflows and eliminates tedious installation of pipeline tools and manual processes. Studios can securely receive work from artists without granting access to the entire project infrastructure, ensuring uncompromised studio security. The batch creation feature allows for effortless management of multiple files and assets. With the Web Publisher addon, users can rest easy knowing that past batches are tracked and easily accessible, providing peace of mind and allowing for uninterrupted creative work.
Functionality in the Web Publisher add-on includes:
Remote publishing from using a web browser

Batch creation feature for managing multiple files and assets

Tracking of past batches for easy access and peace of mind

Simplified workflow with no additional installations or third-party applications required

Enables seamless collaboration and efficient sharing of work for review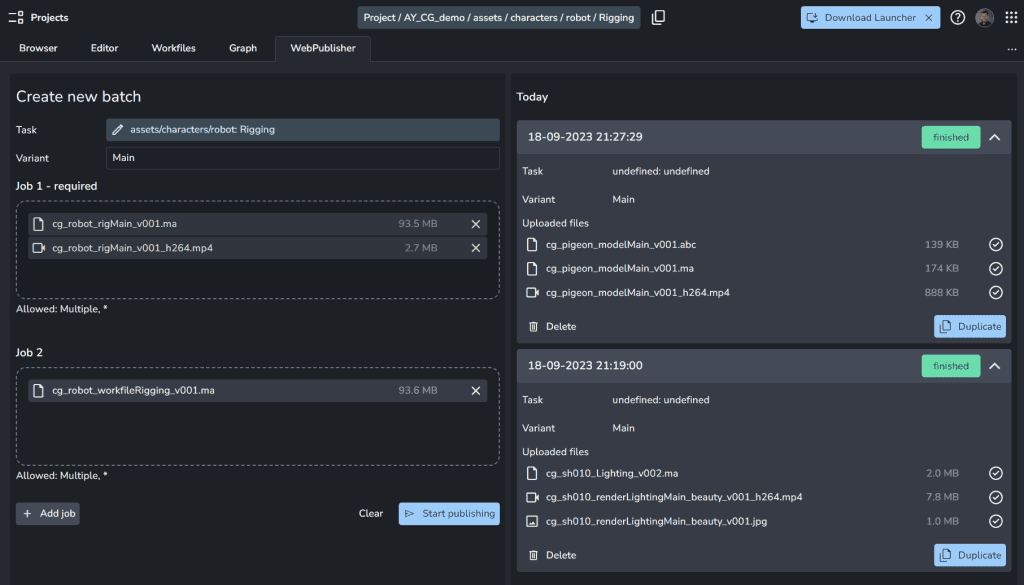 Node Graph: A New Era of Visualization and Interaction
The Node Graph addon introduces a visual way to perceive information flow of projects within AYON. Its intuitive node-based environment enables users to visualise projects like never before. With the Hierarchy Browser, gaining an overview of the entire project's structure and effortlessly navigating through its components becomes painless. The Links Explorer reveals intricate relationships between entities, providing valuable insights into their connections and dependencies. By utilising the Links Creator, users can establish meaningful connections between nodes, enhancing project organisation. The Graph it! feature offers a comprehensive view of entity links, providing a quick understanding of the project's structure. With full keyboard and shortcut support, the Node Graph addon ensures fast and efficient navigation.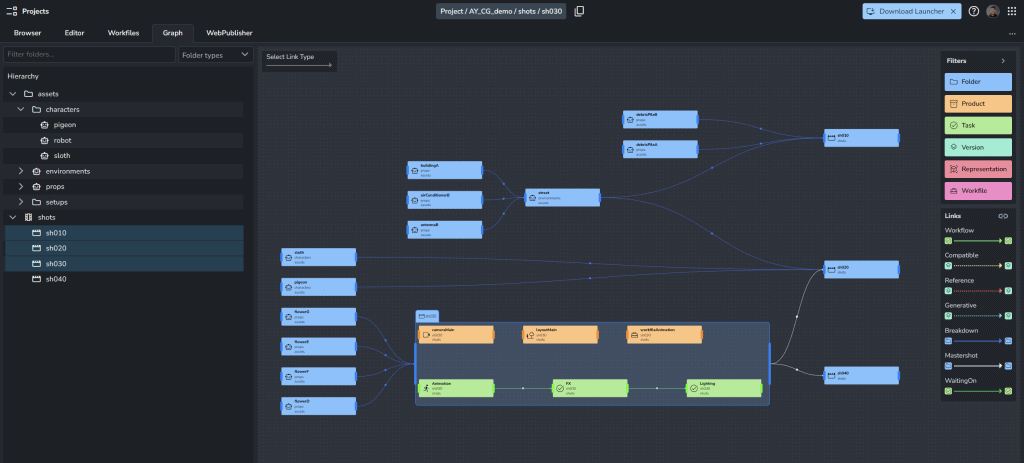 Functionality in the Node Graph add-on includes:
Intuitive node-based environment for visualising the flow of information on projects

Hierarchy Browser for an overview of the project's structure

Links Explorer to reveal relationships between entities

Customisable links for showcasing task dependencies

Links Creator to establish visual connections between nodes

Graph it! feature for quick and comprehensive entity link views

Full keyboard and shortcut support for fast navigation
The Node Graph addon and Web Publisher addon will be available for purchase on a per-user, per-month basis once it exits the beta period. Additionally, these services are offered at a nominal fee with the free community plan and will be integrated into the commercial offering of AYON in the near future.
The nominal pricing of the addons is designed to support the development of the free community edition, allowing for effective service to the community. Users' investment in these paid-for addons plays a direct role in the upkeep and maintenance of the community tier, ensuring that AYON remains accessible to all.
To learn more about AYON and to access these powerful new addons, please visit the Ynput website at https://ynput.io.